Delegations from the African Development Bank and the World Bank visit CSCEC-built 4th Abidjan bridge
Pubtime:09.11.2022

【Font size:

Big

Mid

Small

】Print
Recently, delegations from the African Development Bank and the World Bank visited the 4th Abidjan bridge built by CSCEC. The owner and CSCEC representatives accompanied the delegations.

The delegations visited the main bridge, the overpass, south and north ramp bridges, and the flyovers, and listened to the report on the project and the construction progress.
A representative of the African Development Bank acknowledged all parties'efforts as well as the progress and quality of the project and looked forward to the opening-to-traffic of the project.
A representative of the World Bank expressed that the project's overall visual progress has been significantly improved and the project would definitely enhance the connectivity in areas along the route upon completion.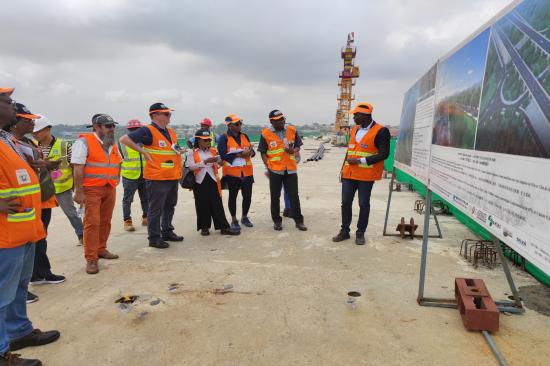 It's expected that an average of 70,000 vehicles will travel across the bridge each day upon completion. This will substantially improve the traffic conditions of the Plateau where Cote d'Ivoire central government is located, Yopougon, the most populous commune of Abidjan, and Ajame. It will shorten the driving time between the above areas from 2 hours to 15 minutes.