The 3rd China-CEEC Expo opened at Ningbo International Conference Center built by CSCEC
Pubtime:23.05.2023

【Font size:

Big

Mid

Small

】Print
Recently, the third China-Central and Eastern European Countries (CEEC) Expo and International Consumer Goods Fair was opened at Ningbo International Conference Center, which was built by CSCEC.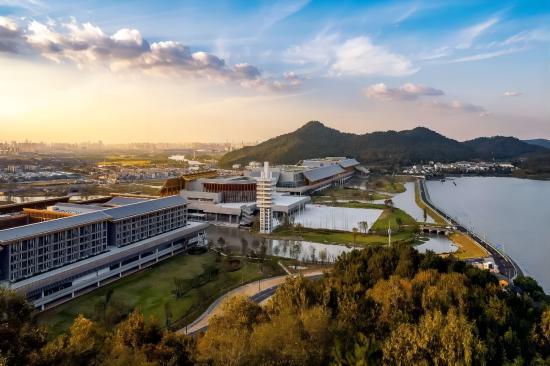 Ningbo International Conference Center is located on the west bank of the Dongqian Lake, with a total construction area of 311,700 square meters, including 227,333 square meters above the ground. From the south to the north, the center boasts the hotel area, the summit area, the main venue, and the multi-function hall constructed in turn. The overall design of the building achieves the effect of connecting "lush mountains, lucid waters and green fields" by erecting corridor bridges, creating an international conference center with an international first-class level and a rich flavor of the region south of the Yangtze River in China.
A green conference center
Ningbo International Convention Center has maximally preserved the original ecological and geomorphic features of the site, with nearly 500,000 square meters of original wetlands. The large area of compacted soil greening also provides an efficient recycling ecosystem and establishes a new model of environmental protection, energy saving, and emission reduction.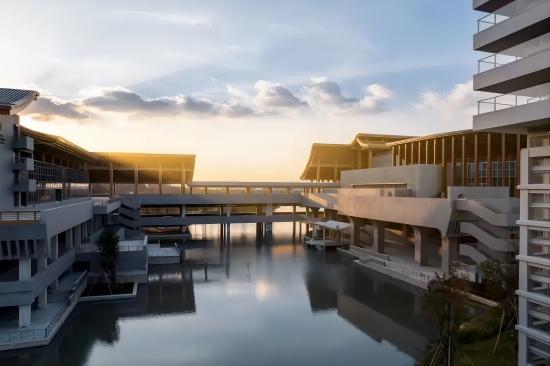 A hi-tech conference center
The project team developed an integrated construction technology of steel sheet piles and cofferdams for the cross-river building, and used BIM technology to ensure both the flood discharge function of the original river and the quality of pile foundation and structure construction in the river. Four key technologies and 11 innovation points were formed in the research and development process of the project.